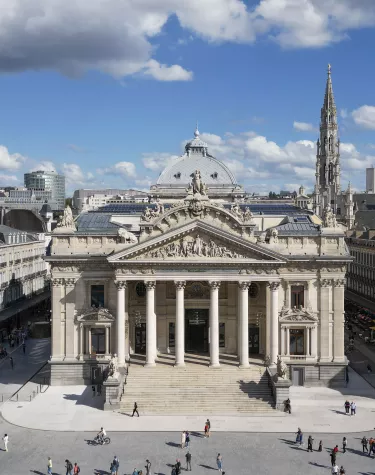 From 12 a.m. to 9 p.m.
Let's meet at the Bourse
Openning of the Belgian Beer World
Book your tickets to visit Belgian Beer World on 09.09
Openning of the Bourse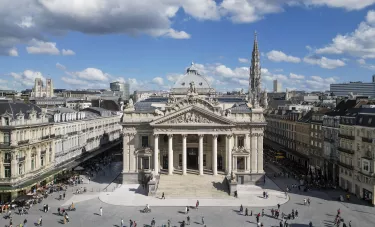 9 September: Far more than an inauguration, a festival of activities open to all! 
From its historic basements to its spectacular rooftop Skybar, the Brussels Stock Exchange has been completely rethought and renovated. Its spectacular nave, completely revamped, has been transformed into a place where the people of Brussels can live, meet and relax. And the upper floors are home to the brand new Belgian Beer World, the largest interactive beer centre in the world! 
Discover the programme we have in store for you for the grand inauguration celebration on 9 September... 
Welcome to the opening party! 
Brussels residents, Belgians and tourists: Let's meet at the Bourse ! 
The Zinneke Parade welcomes you at 12:15 pm with fanfare, a combination of percussion and totem poles as only they can imagine. This merry band will take you on a 30-40 minute tour of this brand new venue (leaving from 123 Boulevard Anspach at 12 noon). They will then pass the torch to Philippe Close, Mayor of Brussels, and Charles Leclef from the Maison des Brasseurs [Brewers House] for the official inauguration. 
Hip-hop, beatbox battles: the street is the stage 
From 1:30 to 9:00 pm, the DetourS Festival will be staging a series of breathtaking performances on the Stock Exchange Square: breakdancing, acrobatics, loopstation with Yaswede (runner-up in the world loopstation championship), a show by the Happy Brothers combining humour and hip-hop, FootboxG (world beatbox champion) and dance battles in all styles. 
Splendours, legends and magic: heritage live 
Offbeat guided tours of the Stock Exchange, with fascinating stories, organised by Korei. Plus spectacular entertainment created by our medieval companions from La Mesnie du Phoenix [The Retinue of the Phoenix]. Or a quieter place to practise your calligraphy, right next to their torture shop. Enjoy….. 
Meet the people who make Brussels tick 
As an extension of our Citizen Participation workshops, you are invited to meet a number of associations, including the maisons de quartier [community centres], the Syndicat des immenses [citizen pressure group], Brussels 2030 and Women 100 - social and cultural activities all that deserve to be (more) widely known. 
No Belgian festival without beer and chocolate! 
There is, of course, also an area devoted to beer culture and folklore, as well as to our delicious chocolates... You are cordially invited to a variety of tastings. And you'll even get the chance to see some old brewers' cars. 
Belgian Beer World also opens its doors on 9 September! 
An inauguration celebration not to be missed under any circumstances, the nave and the activities of the Stock to be discovered without fail, but what else? Why not take advantage of the day to visit the brand new Belgian Beer World? The good news is that there are still a few places left to discover it before anyone else, on 9 September, as soon as it opens. 
Let's meet at the bourse