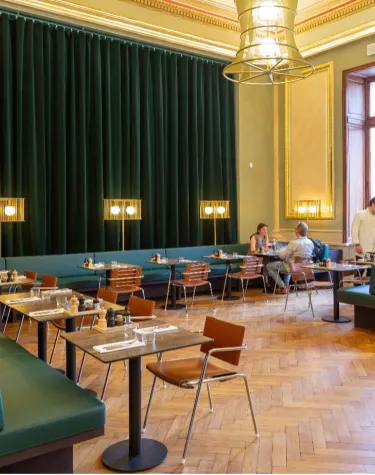 'The Brasserie', the Bourse Beurs restaurant, opens its doors to the public
Published on 31/10/2023
A culinary event at the heart of the Bourse: 'The Brasserie' is opening it doors to those who love fine Brussels cuisine and relaxed and friendly places to dine out. 
Nestled at the heart of the magnificently restored Bourse building, The Brasserie is a restaurant combining modernity and Belgian culinary tradition. Shrimp or cheese croquettes, meatballs, carbonnade stews, an array of salads... the brasserie's chef showcases the range of 'Brusseleir' cuisine perfectly, while keeping a few surprises for the more curious palate.
A refined and convivial setting
The Brasserie is an integral part of the entire Palais de la Bourse's successful renovation. The architects who designed it have preserved the integrity of the building and its architectural splendour, while embellishing it with contemporary brasserie furnishings that appeal from the moment you step inside. 
Banquettes, copper ornamentation, high-quality wood, mouldings, muted colours... visitors will find all the comfort and trimmings of a warm and comfortable establishment.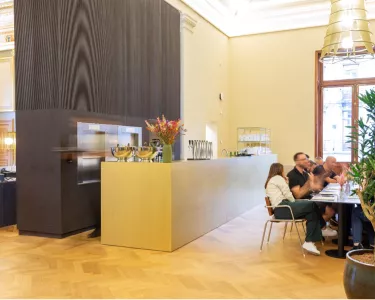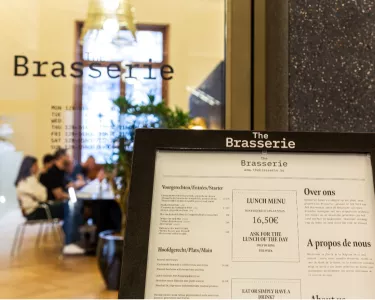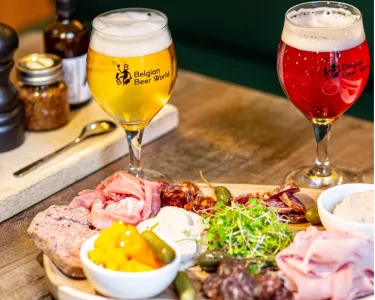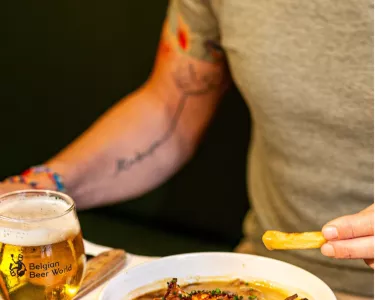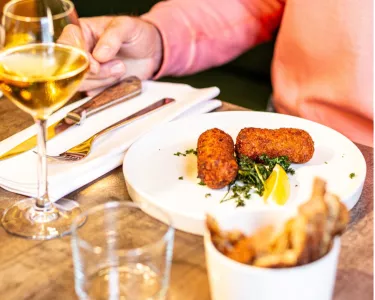 A gourmet menu 
The Brasserie is a tribute to the gourmet reputation of Belgian culinary art. Its menu features a choice of typically national dishes, some 100% traditional, others revisited with a touch of modernity that will pleasantly surprise gourmets' taste buds. There's also something for vegetarian and vegan food lovers, with a range of dishes, salads and desserts made with seasonal produce. Finally, the chef's menu offers a selection of dishes especially for younger guests.
The art of savouring food with the right pairings
Blonde, dark, amber, fruity, hoppy... The Brasserie's menu is accompanied by a drinks menu where, with Belgian Beer World nearby, the beers are sometimes an unexpectedly good pairing for the meals... when they're not actually part of the recipe!  Of course, out of respect for choice, the same menu offers another selection of wines (including Belgian bubbles) and soft drinks.
The Brasserie: a crossroads for visitors
More than just a restaurant, The Brasserie aims to become a central attraction of the building. A meeting place for residents and workers and a place of discovery for visitors – both regulars and those just passing through – The Brasserie aims to bring people together over a love of food. 
The Brasserie is also the perfect end to a visit to Belgian Beer World. After an introduction to the history, know-how and subtleties of Belgian beers, what could be better than to quench your thirst? 
Finally, to make sure that everyone can find what they're looking for, the menu is accessible and affordable. 
See you at the Bourse and The Brasserie!
Booking
You can come to the restaurant without making a reservation. But to make sure you get a table, we recommend you book on:
Emergency telephone number: +32 493 11 33 19 
Accessible to persons with reduced mobility via the "Saint-Nicholas" entrance: at the corner of the rue de la Bourse and the rue Tabora, opposite Saint-Nicholas Church. 
Exceptionally open on Tuesdays and Wednesdays only for group bookings of more than 45 people.