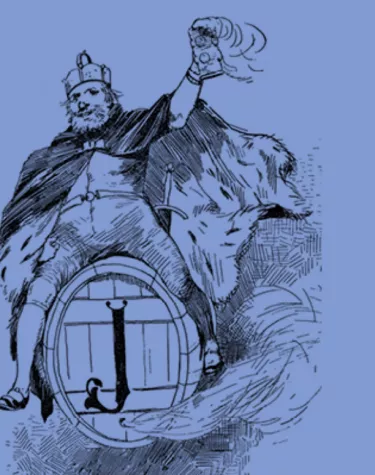 The Tomb of Gambrinus, Legendary King of Beer
Published on 25/08/2023
A tragic tale? Not really. 
According to legend, it is the tomb of John 1, Duke of Brabant or Jan Primus in Flemish, that we refer to as Gambrinus.
Gambrinus, mythical king of Flanders and Brabant, is said to have created the famous Brussels beers, faro and lambic. He was also said to have laid the foundations for the brewing industry in Brabant by granting brewing and sales licences. President of the Brussels Brewers guild, he was particularly fond of the beverage which he was able to consume in impressive quantities…
This intrepid knight was therefore destined to become an important figure in the world of beer. He is traditionally depicted with a tankard in hand, sat on a barrel, toasting the health of the people.
Gambrinus represents the joy of beer lovers, particularly in the areas of Brabant and Flanders. But his notoriety crosses our borders and he is a feature of folklore in many European countries. Various restaurants, bars and brasseries, as well as different brands of beer, in Belgium and elsewhere, are also called Gambrinus.
However, it is in Belgium, in Brussels, beneath Belgian Beer World that he is laid to rest…